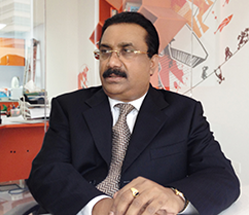 K.S. Premkumar
Managing Director
Leading from the front
K.S. Premkumar, the Managing Director of Prominare Group, is a multifaceted personality with diverse business interests in luxury property development, construction services, project management and advertising. Prominare us yet another addition to his glamorous portfolio of projects that include the high rises of Dubai Marina and various residential complexes across UAE. In his many roles with leading Dubai based business corporations, Premkumar headed the development of a number of residential buildings, commercial complexes and five-star hotels, managed by international chains such as Sheraton and the Intercontinental Hotel Group (IHG). As a Certified Project Management Professional accredited by Parson Brinckerhoff USA, Premkumar later joined the founding team of one of Dubai's premium luxury property developers as Senior Vice President, Project Development overseeing the completion of some of Dubai's most premium towering residential complexes.

In India, he has developed properties for hospitality projects for InterContinental Hotels Group including The Holiday Inn Kochi. He is also currently heading the development of a prestigious 26-storey luxury condominium Riviera Grande in Calicut and also 5 lakh sqft residential condominium with 213 super luxury apartments in the heart of Trivandrum city.

As a native resident of Guruvayur, Premkumar brings his international expertise home with Prominare Builders & Developers and their maiden project Orchid Villas and Apartments, a gated community housing concept with independent or community villas and a multi-storey apartment complex.